To commemorate my centennial achievement (100 lbs lost/6 months out - I am right on the cusp), I will list the things that I have relied upon the most during this journey.
Consider this my teary, dramatic Oscars "thank you" speech, except that I'm not wearing a designer dress.
In no particular order, here are The Things I Couldn't Live Without: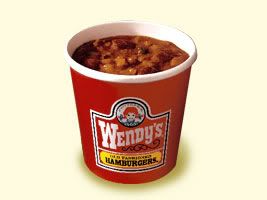 Wendy's Chili - Wendy's provides a mainstay for me. Their small chili (with cheese) is the perfect concoction of finely ground meat, kidney beans, vegetables, spice, and broth. There are alot of things that don't agree with tiny new tummies, but Wendy's chili has never failed me.
Taco Bell - Taco Bell was the location of my first post-surgical dining out experience. That first small order of pintos and cheese was like ambrosia after weeks of liquid nutrition. Still a favorite for me 6 months later.
G2
- Gatorade's older and slightly less-sweet sister. Perfect choice for hydration without risking a sugar buzz/swoon.
Tostitos Corn Chips - I keep these handy. I especially like the little Scoops!
Aldi Party (Chex) Mix - A little handful of this keeps me going. I tend to pick out the little bagel bits.
Aldi Diet Fudgesicles - Oh my God . . . these are like crack.
Lipton Tea - When the weather was colder, I couldn't STAND cold drinks, but I had to drink something all day (doctor's orders). Lipton hot tea was a lifesaver this past winter.
Centrum Silver Chewable vitamins - Much better than Flintstones, in my opinion, and higher vitamin levels, too.
EAS Protein Powder - mixes easily with just about anything, and gets you to that daily protein goal.
Freshens Smoothies - Their low carb mango strawberry (extra protein powder) makes my tummy sing!
Starbucks - This is my going out place, since I don't really go out to restaurants anymore. Their London Fog tea, and their Skinny Vanilla lattes are winners.
McDonalds - Actually, their skinny vanilla lattes rival Starbucks, and they are cheaper. I can't claim to have used these all throughout my post-op time, because they just came out. Plus, there's no way to sit and relax at a McDonalds, but if I'm in a hurry, hitting the drivethru for a coffee works great!
Goodwill/America's Thrift, etc.: These places have allowed me to work my way through 3 complete wardrobe/closet turnovers in the last 6 months. I would have needed a trust fund to buy that many clothes at the mall.