Anyone that knows me knows that I hate clowns. Always have, always will. I don't trust them; their greasepaint hides their sinister underside.
First, there was serial killer clown John Wayne Gacy, who led police to 28 shallow graves under his house that contained young boys that he had lured to his home, tricked into trying his "trick handcuffs", tortured, sodomized and murdered.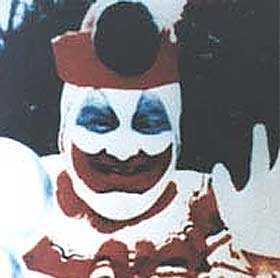 Pleasant dreams, kids
Honoring THAT tradition, may I present to you Spanky the Clown.
Now it was no big surprise to me that
Spanky the Clown has been arrested on child porn charges
. What DOES surprise me is that MORE clowns aren't arrested on child porn charges.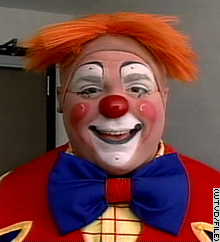 Clowns are evil - especially this one.
They are creepy, all of them.
The ONLY exception to this rule is Krusty the Clown. He is what all clowns should be . . . an aging, jewish, alcoholic, chainsmoking marketing whore. Now THAT I can respect.